Answers to those Frequently Asked Questions
The Sea Dragon Pirate Ship FAQ
What happens if it rains?
Most of the time here in PC Beach the rain moves through the area quickly in 10-15 minutes and does not interfere with our cruises. If we do get caught in a passing rainstorm, there is ample room to get everyone inside and out of the weather. We can even continue the kid's activities in our dungeon.
We strive to give you as much notice as possible when we make the decision to cancel a cruise. We will call you at the number associated with your tickets. You will be given the option to move your reservations to another day/time. It will take several minutes to call everyone so if you are concerned and haven't been contacted yet please feel free to call. It is possible for the weather to be bad where you are yet still nice at our location.
Next Wave Insurance Services, CA license number 0F00755, offers the RegSaver policy at point of checkout when you buy your tickets online. The policy insures your non-refundable ticket cost in the case injury, illness, inclement weather or other covered peril causes you to miss your cruise.
Can we bring strollers aboard the ship?
We don't allow strollers aboard ship due to safety reasons.  You are welcome to bring a car carrier on board, but no strollers.
Are wheelchairs allowed aboard ship?
Absolutely! We have many guests who come aboard and enjoy our cruise while in a wheelchair. We will make every effort to include children and adults in our activities who are confined to a wheelchair. We have a ramp that accommodates a standard width chair and we will help in any way that we can to get the chair aboard the boat. Please be advised that our restrooms are not easily accessible to someone in a wheelchair. There are stairs and marine hatches between the main deck and the restrooms. You are more than welcome to come down to the dock and measure our ramp prior to your cruise.
Often when we are first loading the boat the last 30 passengers or so to come aboard start to worry about having a place to sit down. Crewmembers will inform you that there will be plenty of seats available shortly after we get underway. That's because all of the kids will get up and begin their activities. This frees up enough seats to allow any and all the adults to sit down if they want. Also, you don't have to sit down if you don't want to. You are more than welcome to stand along the rail and enjoy the beautiful scenery or move about the ship while we are underway.
Are there restrooms on the ship?
Yes, we have both men's and women's restrooms aboard the ship. They are located down the stairs located in the galley and then forward through the dungeon. We pride ourselves on keeping our restrooms clean and in perfect working order. Please notify any crewmember or the Captain if you discover any problems with our restrooms. We will make every effort to fix the situation right away!
Can we smoke during the cruise?
Yes, you are allowed to smoke for a brief period at about the halfway point of the cruise. The Captain will make an announcement for the kids go to the dungeon to hear the Pirate Treasure Story. When you hear The Captain say this, make your way to the back of the top deck if you would like to smoke. The Captain has ashtrays for your use. Please do not throw your butts into the ocean or extinguish them on the deck! We ask that you be considerate of nonsmokers and children while you're smoking. Be aware of the wind and try to position yourself so that the smoke blows away from those around you.
We hope not!  The Captain will make every effort to stay in calm water.  There may be a few minutes when we are at the mouth of the pass looking for dolphins when the boat will rock a little.  It won't last for long! 
If you're worried, make sure to take your motion sickness medicine early enough to do some good (read directions).  If you or anyone in your group starts to feel bad make sure to stay out on the main deck and in the wind.  Going down to the restrooms will make things worse!  Make the Captain or one of the crew aware and we will try and help.
How far offshore to you go?
We stay within a half of a mile from shore. There is simply more to see when you're close to the shore.
The Captain will work very hard to find dolphins. We want you to see dolphins! The dolphins are wild so we cannot guarantee that you will see them but most of the time we do!
Is there anything to eat or drink on the boat?
We have beer, wine, margaritas, rum punch, bottled water and soda to drink. We have hot dogs, snacks and candy to eat. Everything is priced very reasonably.
Do you do anything special for birthdays?
If you'll write a small note for the Captain with your child's name and age and give it to him when you're boarding the ship, he will call out your child's name when we are celebrating birthdays near the end of the cruise.
Will I need a ticket for my infant?
Even though we don't charge for infants (under 12 months old) the US Coast Guard requires them to have a ticket as part of our passenger count. When you're making reservations please make sure to tell us you have an infant(s) in your group.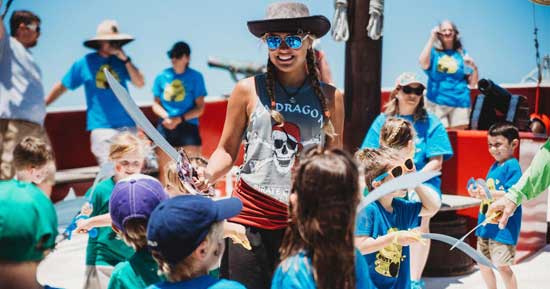 In addition to the great sightseeing aboard our ship, be prepared to sing along with our fantastic soundtrack. Our mix of music is upbeat, fun, and cleverly in sync with the activities happening on the main deck. There will be lot of Pirate songs to sing and plenty of fun and family friendly music playing throughout the ship!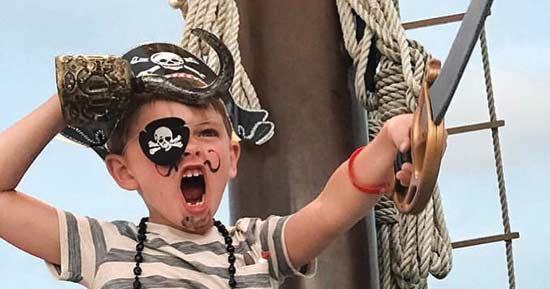 Imagine the fun your kids will have sword fighting, swabbing the deck, firing the "Kid cannon", reading a treasure map, finding a sunken treasure, and sharing of the loot. There's also a water gun fight, face painting, limbo, have a pirate dance party complete with a pirate tattoo. It is literally non-stop activity for the kids!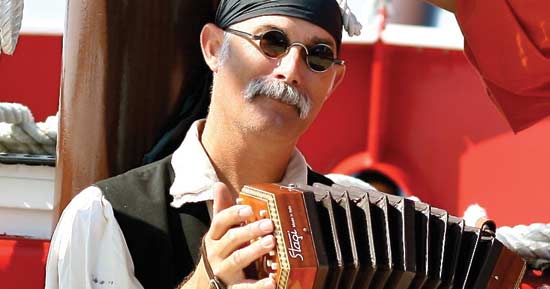 We believe the best part of our cruise is the service and attitude you'll receive from the captain and crew. We strive to provide good, clean family fun. We believe that we can still offer an outstanding experience at a fair price. We want you to walk away from our cruise happy and excited about your next visit..