A wee tale about the Pirate Ship & its Crew​
The Story of The Sea Dragon & Her Faithful Crew
The "Sea Dragon" Pirate Cruise is locally owned and operated by Capt. "Fearless" Phil and his family, not some larger corporation. He was born and raised in Panama City, Florida, and has spent his whole life on the sea. Prior to purchasing the "Sea Dragon" from his uncle, Capt. "Fearless" Phil worked for 25 years with delinquent teenagers on the ocean. In addition to being your Captain, "Fearless" Phil has been a SCUBA diving instructor, Fist Aid/CPR instructor, and a lifeguard.
"My goal for the "Sea Dragon" Pirate Cruise is to operate a wholesome sightseeing adventure for visitors to the Panama City Beach area. I believe that it is still possible to give our customers a tremendous value for their hard-earned money. I don't believe that I need to take advantage of people just to make a living. You can count on me to hire top-notch crewmembers and teach them how to provide a safe environment and good, clean fun for you and your family. No one will work harder than the crew of the "Sea Dragon" to earn your respect and your business! I'll personally see to it!"
We love the sea, the oceans, and our Gulf of Mexico. We will never do anything to exploit the Gulf or its inhabitants. Please don't feed or harass the dolphins. Don't take live sand dollars or seashells away from their home. Know the fishing rules and regulations and only take what you plan to eat. Don't pollute the beach or the waters of the Gulf. Especially, don't tolerate or patronize businesses that exploit this beautiful place we call home. We all make a difference on this earth; help us make a positive one!
The most feared pirate ship on the horizon.
The "Sea Dragon" was built right here in Panama City, Florida. Her keel was laid in 1982, and it took 11 years for her builder to complete her. She was put to sea in the year of 1993. She is 85' overall length and 26' wide. She weighs 157,000 lbs. And displaces 93 gross tons. She is powered by two 6 cylinder John Deere diesel engines (200hp each) and a 30kw generator powered by a 4 cylinder John Deere diesel engine. Our ship, the "Sea Dragon", is a modern-day replica of the ships that plundered these waters centuries ago.
If you get hungry or thirsty, our galley bar has plenty of cold drinks and snacks to hold you over until we return to shore. We have cold beer, wine, margaritas, and rum punch as well as bottled water, sodas and lemonade. Our snacks include hot dogs, chips, cookies, peanuts, beef jerky, fruit bites, and more. We also have plenty of pirate souvenirs! Even though we be pirates our prices won't hold you hostage. We make every effort to be reasonable.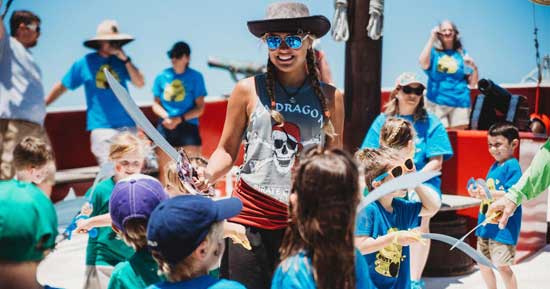 In addition to the great sightseeing aboard our ship, be prepared to sing along with our fantastic soundtrack. Our mix of music is upbeat, fun, and cleverly in sync with the activities happening on the main deck. There will be lot of Pirate songs to sing and plenty of fun and family friendly music playing throughout the ship!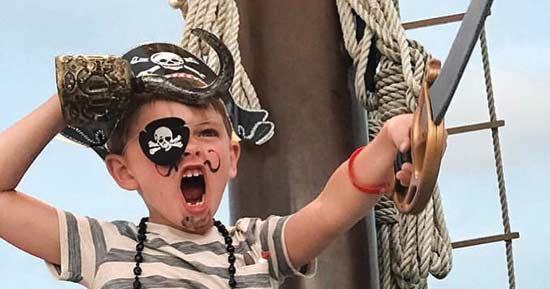 Imagine the fun your kids will have sword fighting, swabbing the deck, firing the "Kid cannon", reading a treasure map, finding a sunken treasure, and sharing of the loot. There's also a water gun fight, face painting, limbo, have a pirate dance party complete with a pirate tattoo. It is literally non-stop activity for the kids!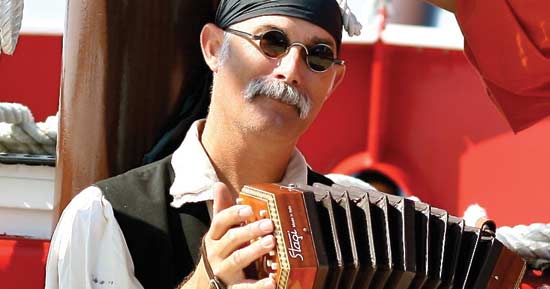 We believe the best part of our cruise is the service and attitude you'll receive from the captain and crew. We strive to provide good, clean family fun. We believe that we can still offer an outstanding experience at a fair price. We want you to walk away from our cruise happy and excited about your next visit..