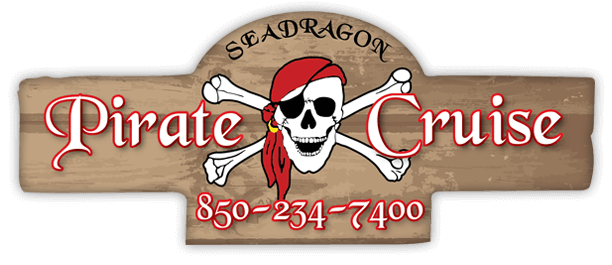 Ne'er a finer a ship has sailed these waters...
Drift back in time to the carefree days of pirates. Sit back and relax as your children laugh and play under the watchful eyes of Capt. "Fearless" Phil and his friendly crew.  Join us for an adventure that you and your kids will never forget!
Come Away with Us & Enjoy The Freedom of The Sea!
Enjoy an exciting and scenic 2-hour family Pirate activity cruise that includes dolphin sightings, great music, and non-stop pirate activities for the kids. Cold beer, soda, snacks, t-shirts & pirate souvenirs are available on board as well as clean restrooms. Located on Grand Lagoon in the Lighthouse Marina next to the Grand Marlin Restaurant!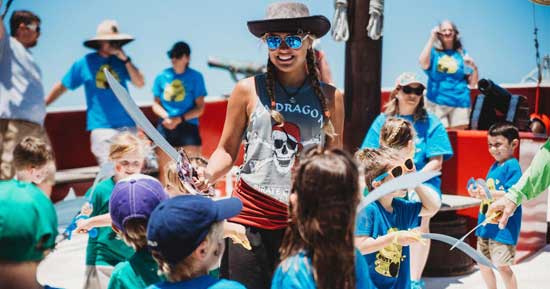 In addition to the great sightseeing aboard our ship, be prepared to sing along with our fantastic soundtrack. Our mix of music is upbeat, fun, and cleverly in sync with the activities happening on the main deck. There will be lots of Pirate songs to sing and plenty of fun and family friendly music playing throughout the ship!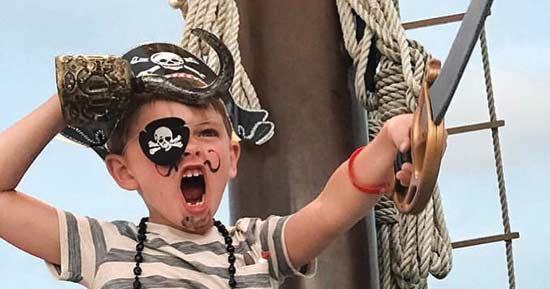 Imagine the fun your kids will have sword fighting, swabbing the deck, firing the "Kid cannon", reading a treasure map, finding a sunken treasure, and sharing of the loot. There's also a water gun fight, face painting, and a pirate dance party complete with pirate tattoos for the kids! Enjoy non-stop activity for the kids!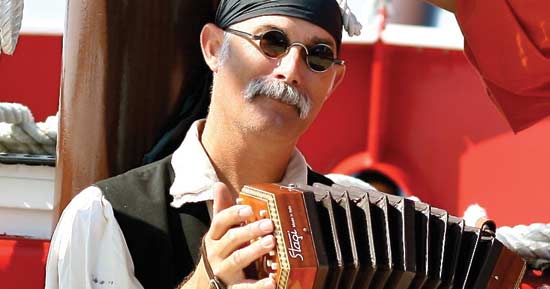 We believe the best part of our cruise is the service and attitude you'll receive from the captain and crew. We strive to provide good, clean family fun. We believe that we can still offer an outstanding experience at a fair price. We want you to walk away from our cruise happy and excited about your next visit..